STILL
COLORFUL
After All These Years

Featuring 98 Geometric and Figured and Fancy Coverlets
from Pennsylvania, New Jersey, New York,
Ohio, Illinois and Indiana
with special section
highlighting Bedford, Blair and Somerset Counties
in Pennsylvania
The most often heard comment from our Museum visitors relates to color. Folks are amazed that the colors are so bright and vibrant – especially after all these years in textiles that are 150 years old or more! It is a tribute to the weavers and dyers who used their incredible design and technical expertise to bring us such creative, beautiful and resilient works.
It took real skill for a dyer to replicate a color reliably and consistently, in a quantity sufficient to complete a project. Some colors were more complicated to achieve than others. Some weavers did their own dyeing, while others used yarns provided by the client, and yet others purchased their materials from professional dyers. No matter what the source was, the color selection and the dyeing itself were major components in the production of a coverlet.
Coverlet weavers did not limit themselves to a palette of red, white and blue. A wide range of color was produced and utilized via the many ways of blending, overdyeing and crossing different colored yarns to create the impression of yet other colors. Different handling resulted in shades of color that could vary in hue, saturation and intensity. In short, these guys and gals knew what they were doing.
Before the advent of synthetic dyes beginning in the 1850s, dyestuffs and mordants came from plants, trees, insects and, of course, the colors found in natural fibers. These natural colors were often derived from – and/or limited to – locally available resources, while others were rare, difficult to obtain and expensive.
As with so many details seen in coverlets, the use of specific colors can sometimes offer clues to the region of a coverlet's origin. The study of color in coverlets can yield all manner of interesting discoveries.
The accompanying exhibition catalog shows 98 coverlets
in color along with a detailed description.
Special Note: This STILL COLORFUL exhibition focuses not only on the rainbow of chroma (purity or intensity of color), but also local color. A portion of the exhibition highlights coverlets from our own Bedford, Pennsylvania and its surrounding counties, including Blair and Somerset.
And then there are the colorful stories… stories about the weavers, owners or weaver family histories, or how a coverlet was discovered or came to be in the donor's or Museum's collection. We have lots of those. Visit the Museum and we will be happy to regale you with a few! Order your copy now!
Melinda Zongor
Director/Curator
---
SPECIAL GUEST EXHIBITION
A Celebration of Texture and Pattern:
Hooked Rugs and Historic Coverlets
Featuring contemporary primitive hooked rugs paired with the historic coverlets that inspired them.
Partnering NMAC with Barb Carroll (Woolley Fox) of Ligonier, PA.
Place: Southern Alleghenies Museum of Art (SAMA)
Location: Ligonier, PA
Dates: August 16 through October 27, 2019

Details: In an unusual pairing of contemporary and antique, the Southern Alleghenies Museum of Art in Ligonier Valley, PA is offering a fun exhibition of primitive hooked rugs and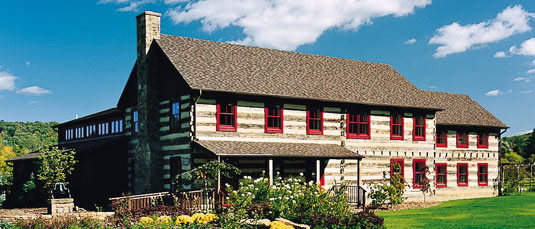 historic nineteenth century woven coverlets (bedcovers).
Until the industrial revolution in America, household textiles were all woven by hand, often using handspun and hand dyed yarns. Weavers produced an astonishing array of utilitarian fabrics and products, but coverlets, many of which were signed and dated, were their showpieces. Nowadays relatively few people know about them and their important place in the nation's history and culture. Some folks, however, are seeking to change that.
For years Barb Carroll of Ligonier, PA, a much loved and well respected hooked rug expert and teacher, has been attracted to the antique coverlets she saw on display at the National Museum of the American Coverlet (Bedford, PA).
Focusing on the colorful, graphic pattern motifs of the coverlets, Barb adapted these motifs to design a series of modern hooked rug patterns. In turn, her friends and followers have used her patterns and hooked rugs of their own.
Barb and the Coverlet Museum have now partnered to offer a colorful and delightful show. This special exhibition features a selection of the hooked rugs paired with the original "period" coverlets that inspired them. The result is a striking, almost organic connection between the two types of textiles, illustrating and highlighting the timelessness of good design and bold texture.
Founded in 2006, the non-profit Coverlet Museum brings coverlets to the public via year-round changing displays of coverlets along with classes, programs and special events.
Barb and the Coverlet Museum collaborated previously at both the Coverlet Museum (in 2013) and at Ohio's Sauder Village (in 2014), and the public response was an enthusiastic "You have to do this again!"
"We had so much fun with this before that we couldn't resist when Barb suggested this new project," said Melinda Zongor, Director/Curator of the Coverlet Museum. "I want people to see how wonderful these coverlets are, and this is my way of supporting their efforts," said Barb.
The CELEBRATION OF TEXTURE AND PATTERN opens at the Southern Alleghenies Museum of Art (SAMA), 1 Boucher Lane, Ligonier, on August 16 and will remain open through October 27, 2019. Hours are 10 a.m. to 5 p.m. Tuesday through Friday and 1 to 5 p.m. weekends. For more information, call SAMA at 724.238.6015 or reach the Coverlet Museum at 814.623.1588 or info@coverletmuseum.org.

NOTE: A special field trip to see this exhibition will be offered as part of the annual Coverlet College event at the Coverlet Museum. Click here for details.
Barb Carroll's website is here.

Learn more about coverlets at www.coverletmuseum.org.
Catalogs and posters for this exhibition available August 16.